It may have originated in the United States, but the concept of Black Friday sales has spread across the globe.
Black Friday fever can take over, turning rational people into bargain-obsessed shoppers, fighting it out out in-store and online to snag the best deals.
And while there may be some great deals on offer, there are traps to look out for.
So, here's when Black Friday starts in Australia, how the fear of missing out (FOMO) shapes our purchasing behaviours, and how to avoid overspending.
When is Black Friday 2023?
Black Friday is the first Friday after the American Thanksgiving holiday.
This year it falls on November 24 in Australia.
Keep in mind the timing of the sales can vary by retailer every year, with some brands offering discounts in the days or even weeks leading up to Black Friday.
When is Cyber Monday?
Monday, November 27. It follows Black Friday.
Cyber Monday sales signify the increasing popularity of shopping online rather than in-store.
Is Black Friday big in Australia?
Research from the Australian Retailers Association (ARA), in collaboration with Roy Morgan, forecasts shoppers will spend $6.36 billion across the four-day Black Friday to Cyber Monday weekend this year, up 3 per cent from last year.
A Finder survey of more than 1,000 people found almost one in three Aussies — equivalent to six million people — are planning to take part in the Black Friday sales.
The survey also revealed Black Friday has actually overtaken Boxing Day (26 per cent) in terms of popularity.
But are Black Friday sales really worth it?
While Black Friday sales can offer consumers discounts, CHOICE editor Pru Engel says Australians should always scrutinise the deals on offer to ensure they're getting a bargain.
"It's important to remember that there are multiple sales periods throughout the year, such as end of financial year and Boxing Day," Ms Engel said.
"Black Friday is just one of them, so don't feel pressured into thinking this is the only time you'll get a good sale price.
"A cheap deal isn't always a good deal, and just because something is on sale, doesn't mean that you should buy it."
The psychological reason you can get sucked into Black Friday sales
Trying to avoid shopping on Black Friday is a bit like trying to resist eating a slice (or two) of pavlova on Christmas day: both come once a year, are designed to entice you, and can leave you wanting more.
But the Black Friday and Cyber Monday craze runs deeper — there's a psychology behind it.
University of Technology Sydney Business School Associate Professor Adrian Camilleri says consumers really do not like losing out.
"Missing out on a deal is often interpreted as a loss," Mr Camilleri said.
"In the context of Black Friday sales, this 'fear' means buying and avoiding any possibility of feeling like one has missed out.
"In a world of social media, where a consumer can see what all their friends have purchased, this FOMO is even more powerful."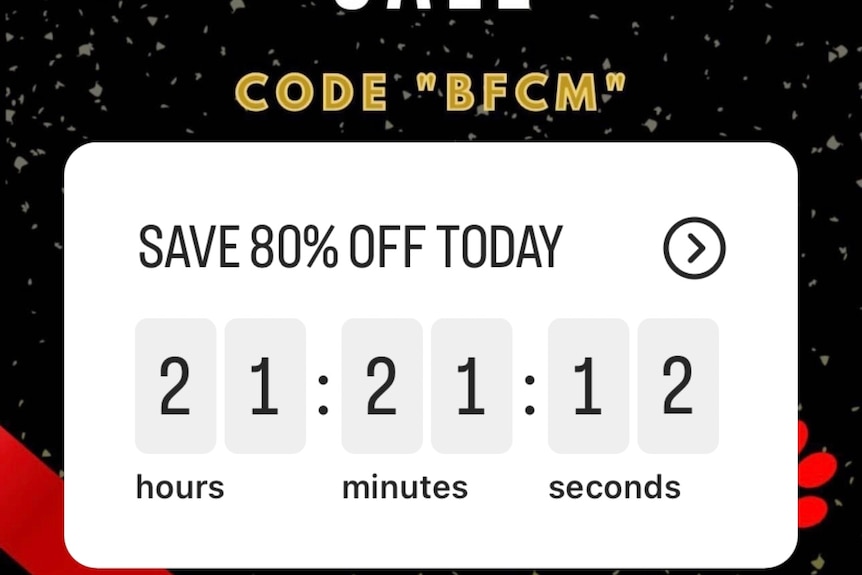 Companies exploit this FOMO by using specific marketing tactics to pull consumers in, such as setting 'limitations' on stock to make their products appear to be in short supply.
This can generate a huge sense of urgency, as consumers believe they need to act immediately in order to bag a bargain.
"Other marketing tactics include stating how many consumers are currently browsing the same website or listing, and applying limited time discounts," Mr Camilleri said.
But it's not just FOMO that comes into play.
UNSW Business School Professor Nitika Garg says Black Friday sales can have an interesting effect on our brain chemistry.
"When we feel that we have gotten a good deal, we get a big dopamine hit," Ms Garg said.
"We essentially give ourselves a pat on the back, rewarding ourselves for nabbing a discount."
How to avoid getting swept up in the frenzy
Ms Garg said it's important consumers stay rational when it comes to shopping events like Black Friday.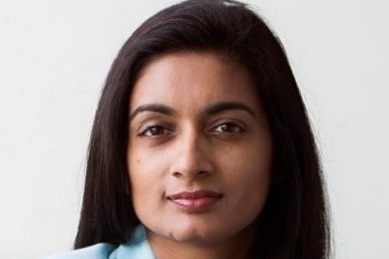 "There is a danger for consumers to overstretch themselves if they're not careful, especially in today's cost of living circumstances," she said.
"So, make sure to think about what you really need, put it on paper, and hold yourself to that. Be disciplined in how you go about shopping."
Here are some other ways to help you stay strong in the face of an irresistible sale:
Bring a thrifty shopping buddy who can help you stick to your plan
Look at multiple retailers and compare their prices
Avoid shopping momentum: This is when an initial purchase increases the likelihood for a second one, even for an unrelated product
Prepare to be bombarded with advertising: Almost every retailer will be emailing you deals, while social media will also be flooded with posts
Take a step away when you see something that you may buy: Unless you are 100 per cent certain that you need an item, leave your computer (or the shop) for 10 minutes and do something else. The likelihood is that you will not go back and buy it if it's something you don't need
Tips for bagging a bargain
If you're shopping in-store, Ms Engel says you shouldn't be afraid to haggle.
"Ask the salesperson if it's the best price they can give you and at this time of year, they may be inclined to give you a bigger discount."
Here are some other ways to get the best out of Black Friday deals:
Do your research — Have a wishlist prepared and know what the regular prices are so you can tell whether you're really saving any money
Set a budget — And stick to it
Check out online stores — Online sales tend to offer broader choices than a physical store
Consider opting for an older model on appliances — This could include TVs, phones, whitegoods, etc.
Avoid falling for these Black Friday traps
Before you rush to buy an on-sale item, here are some consumer pitfalls to keep an eye on.
Don't pay for fancy features you won't use
This is especially the case for whitegoods, Ms Engel says.
Decide on the features most important to you and cull the ones that aren't worth paying for.
Scam websites
Ensure the retailer you're buying from is genuine.
The National Anti-Scam Centre has detected a concerning increase in the number of reports of fake websites that look like genuine online retail stores belonging to many high street brands.
So far this year, there have been 2,760 reports of fake online stores, resulting in losses of more than half a million dollars.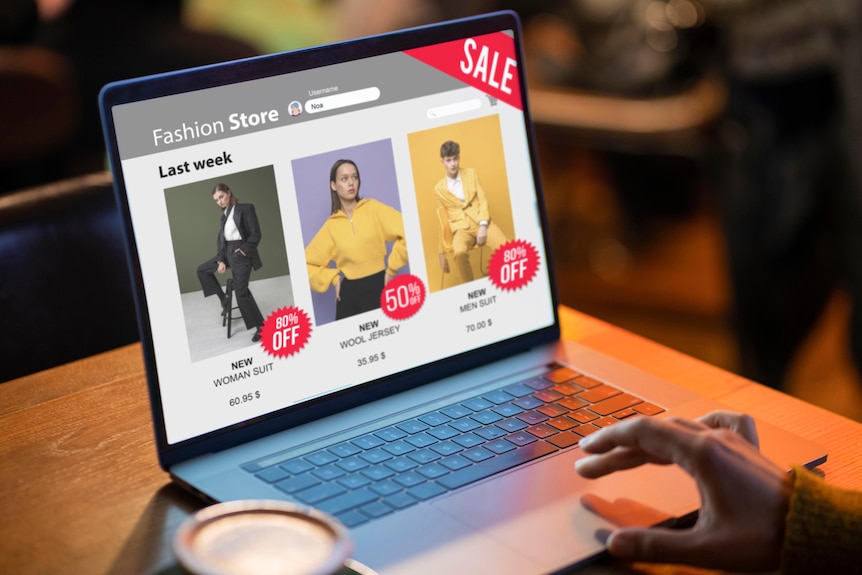 Australian Competition and Consumer Commission (ACCC) deputy chair Catriona Lowe says scammers are opportunistic criminals who will try to take advantage of consumers this sale season.
"A recent, disturbing development is that scammers are paying for their fake websites to appear at the top of your internet search," Ms Lowe said.
"This means you can't necessarily trust the first listing you see.
"As an alternative, consumers may wish to familiarise themselves with the site addresses of their favourite brands and navigate there directly or scroll down the search results to ensure they find the real site."
Ms Engel recommends looking out for the following red flags:
typos on the website
an unusual URL
discounts that sound too good to be true
odd payment methods
Extended warranties
Salespeople might offer you extra protection that goes beyond the manufacturer's warranty.
But these warranties come at a cost and are often not worth it, Ms Engel says.
"They don't actually give you any greater protection than you already have under Australian Consumer Law."
International transaction fees
If you're buying a product from an international retailer, you'll need to watch out for foreign currency or transaction fees.
Typically, websites don't disclose this until the money comes out of your account or you receive your bank statement.