Nail artist Eri Narita is making a name for herself in this global center for fashion with her refined skills and sophisticated ideas. 
Like other non-garment designers, Narita, 37, continues bringing brilliant innovations to models' fingertips, despite nails supposedly playing a minor role in the fashion world.
Agility and elegance are required behind the scenes in Paris.
"I make proposals in 15 seconds while racking my brains," said Narita.
The cover of the May issue of the U.S. magazine Vogue features 10 globally renowned models, including Naomi Campbell, Kendall Jenner and Gigi Hadid.
Narita was responsible for all their nails.
"It was a real honor for me," Narita said. "Everything I had done early on ended up paying off."
Born in Yokohama, Narita graduated from a university and started working at a major bank.
She was stricken by illness during the second year at her workplace and hospitalized.
Narita was diagnosed as having sepsis, a life-threatening condition characterized by the presence of harmful bacteria in the body.
Out of fear of "dying this soon," Narita rethought her life plans and resolved to pursue her long-held dream of becoming a nail artist.
Narita learned basic techniques at a vocational college and joined a nail salon as a staff member.
She then transferred to New York City with the hopes of harnessing her fluency in English. Narita polished her skills through part-time shifts at a nail salon.
After showing off her artisanship via a range of opportunities for three years, Narita relocated to Paris, where she had longed to go.
Narita became independent in 2018. She began accepting offers linked to Paris Fashion Week around that time owing to the personnel connections she formed in New York.
The COVID-19 pandemic also brought her unexpected luck.
The health crisis made it difficult for high-profile nail artists in the United States and Britain to travel to Paris, making local technicians highly sought after.
"A lot more people found me via Instagram," said Narita.
Despite Parisians' penchant for simple patterns and chic designs on their nails, Narita continued suggesting "designs not typical of Paris."
"I am doing flashy work following the New York style," Narita said with a grin. "But I feel such designs make a strong impression, enabling my approach to be gradually embraced here."
Narita described that exchanging conversations are particularly important, like playing catch.
She must respond quickly and offer exceptional ideas.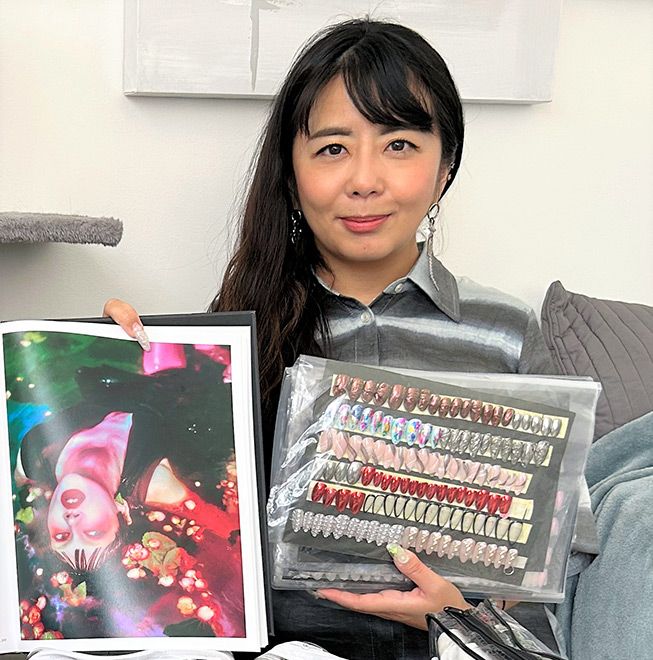 Hair stylists can often hear conceptual requests from clients before fashion shows and magazines' photography sessions. This type of prior explanation is rarely provided to their nail counterparts, as the fingernails are "not deemed as significant."
In most cases, Narita must immediately propose patterns to her client.
"I'm always stunned by the fact I really need to immediately decide the design on site. I really have to think fast to make a proposal in an instant," said Narita.
Now in her eighth year in Paris, Narita adorned the nails of Japanese actress Miki Nakatani in July, whom Dior invited to the haute couture show.
Narita's dream is to serve as the main nail artist for a French brand's fashion presentation at some point.
"I will be improving my techniques from now so people will tap me and not anyone else to work with them," she said.