Shadi Amin, the executive director of Germany-based Iranian LGBTQ network 6rang (Iranian Lesbian and Transgender Network), grew up in Iran thinking she was "sick" because she's queer. In a recent interview with PinkNewsUK, Amin reflected on the death of 22-year-old Mahsa Amini for allegedly not wearing a headscarf properly by Iran's dreaded "morality police."
The death of the young Iranian Kurdish woman on Sept. 16, 2022, touched off massive protests across the country, especially in its capital city of Tehran. But Amin points out that those protests over Amini's death led to become a rally call to fight for the rights of women, LGBTQ folks and other marginalized groups in Iran.
"[LGBTQ+ people] are one of the most active and involved groups in these demonstrations and protests last year … We saw everywhere when there was a demonstration [there was] the rainbow flag, even if sometimes the people didn't agree with that and they said go back," Amin told PinkNewsUK.
"They tried to put us out of the demonstration, but I think our LGBTI youth community is really powerful and they try to bring their demands in this movement," she added.
More than 22,000 people were arrested and hundreds killed, including some who were executed by the Iranian government in an effort to crush dissent through violence. 
Read the entire interview here: [Link]
Earlier this month several hundred LGBTQ people and the allies marched in the Serbian capital of Belgrade marking the celebration of a Pride march that was unmarred by violence in this religious conservative Balkan nation.
Radio Free Europe noted that in a similar event last year, at least 21 people were arrested in connection with attacks against police, with most of them suspected of being far-right hooligans protesting against the LGBTQ Pride march. 
The government of Serbian President Aleksandar Vucic reversed its decision to ban the international EuroPride parade event on Thursday, Serbian state media reported.
On Sept. 12, officials from EuroPride and Belgrade Pride, commemorated the start of EuroPride 2022 in Belgrade with a ceremonial flag raising. On Friday led by the Dutch Embassy, members of the European Union and other non-EU states issued a joint statement applauding the Serbian government's roll-back of the ban.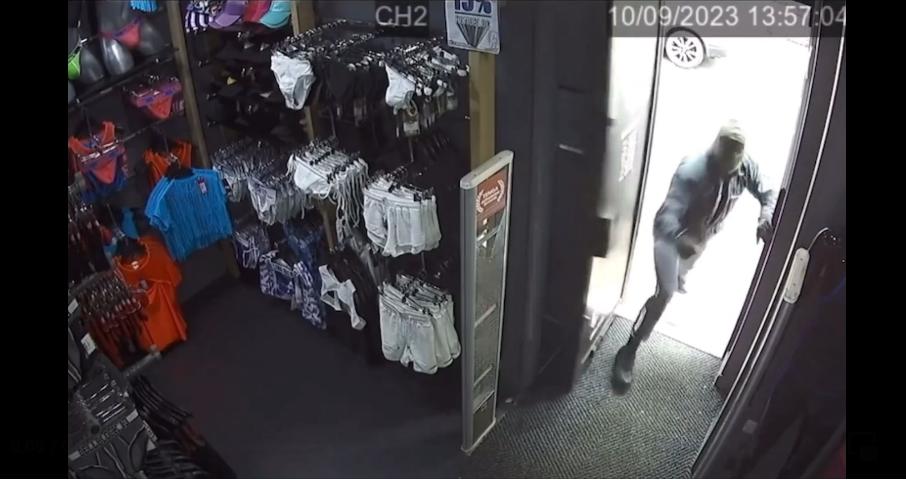 A 29-year-old man was arrested by Greater Manchester Police in connection with the vandalistic attacks on the Clonezone store on Sackville Street in the heart of Manchester Center. The store is the U.K.'s first and favorite Queer Superstore.
The suspect also being held on suspicion of 24 motor vehicle thefts and remains in custody for questioning.
Clonezone has been attacked five times this year, with the latest incident on Sept. 10 at approximately 2 p.m. Two men approached the shop on a bike on Sunday and attempted to smash the windows before throwing an object at the doors.
Chief Inspector Steve Wiggins, of GMP's City Center Neighborhood Team, said: "This is the second arrest in connection with this series of disturbing incidents but the investigation is still very much ongoing.
The attacks are very specific with offenders arriving on bikes and causing significant damage.
We are keen to find out the motivations behind the attacks and believe that will help us trace those responsible and bring them to justice.
We have a dedicated team investigating these incidents, so if anybody knows anything about these attacks I would urge them to call police."
Information can be passed on to police by calling 0161 856 3345 or via 101, or anonymously through Crimestoppers at 0800 555 111.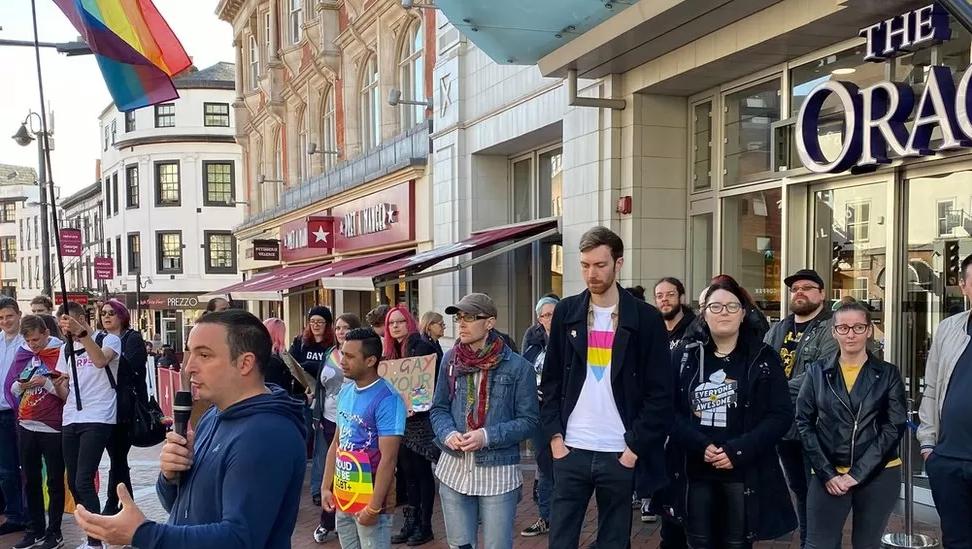 American fast food chain Chick-Fil-A announced its plans to open five new franchise stores around Britain in as yet to be disclosed locations, the BBC reported on Sept. 15.
Chick-fil-A had previously launched a pop-up store for a six month lease in the Oracle shopping center in Reading in 2019, but was met with severe opposition and its lease wasn't renewed. British LGBTQ rights activists protested the College Park, Ga.,-based food chain's donations to groups that have a record of being opposed to LGBTQ rights.
During the 2019 protests in Reading, the BBC noted that Reading Pride spokesperson Kirsten Bayes told protesters: "Companies like this have no place here in Reading and they have no place anywhere.
"We are standing in solidarity with campaigners across the United States … for justice and freedom for LGBT people."
A local elected official, Reading Labor Councilor Sarah Hacker said: "We can make sure that they don't spread their hatred across the U.K."
The fast food chain firm is run by the Cathy family, who have publicly stated their opposition to same-sex marriage and other LGBTQ issues.  In 2020, the firm softened its stance and shifted its focus, hiring a diversity vice president. The BBC reported that the company changed its approach to charitable giving, focusing on education and hunger alleviation, moving away from donations directed at anti-LGBTQ organizations, including several of those listed as extremist hate groups by the Southern Poverty Law Center.
"From our earliest days, we've worked to positively influence the places we call home and this will be the same for our stores in the U.K.," Joanna Symonds, Chick-Fil-A's head of U.K. operations, told the BBC.
"We encourage our operators to partner with organizations which support and positively impact their local communities, delivering great food and wider benefits to those around them," she added.
In announcing the new U.K. investment, the chain highlighted its current charitable work, which include a $25,000 one-off donation to a local non-profit organization when a Chick-fil-A restaurant is opened, and donations of surplus food to local shelters, soup kitchens and food charities. Those policies would apply to its U.K. branches too, it said.
The apparent rebranding of a beloved LGBTQ bar and safe space in Cork and makeover provoked protests by the local queer community.
Irish LGBTQ publication GCN reported that in recent weeks, people began to notice a change in the appearance of Chambers Bar, no longer recognizable as an LGBTQ space. A new sign had been displayed above the doorway with the name "Sinners" in black and white, a stark contrast to the venue's once vibrant appearance.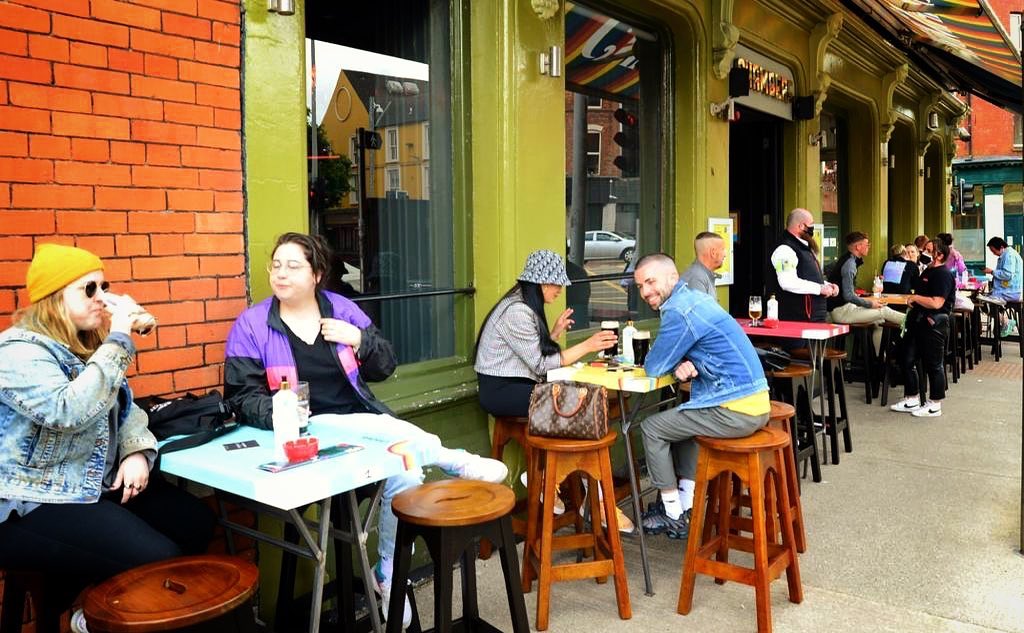 This name is nothing new to people in Cork, as Chambers Bar has been hosting student nights under this name for a number of years. Even so, this year was the first time that, in addition to hosting a student night for "Freshers" Week, all Pride flags, rainbow curtains and posters for upcoming drag shows were also taken down.
However, the catalyst for sparking an onslaught of backlash seems to have come from the cancellation of a weekly drag show. This was to be hosted by Cork drag queen Krystal Queer, who took to Instagram to express her disappointment in a video that now has over 300,000 views.
In stark contrast to the small group of anti-transgender protesters gathered in Dublin to hear anti-LGBTQ TERF Kellie-Jay Keen, a.k.a. Posie Parker, speak at her "Let Women Speak Rally" at Merrion Square, Trans and Intersex Pride Dublin had nearly a thousand supporters turn out to counter demonstrate.
The Irish Times reported that a large police presence was visible in and around the square and metal barriers were erected to create a space between the rival demonstrations.
The counter demo by Trans and Intersex Pride Dublin assembled outside the lower house of the Irish legislature on Kildare Street ahead of marching into Merrion Square.
Leading pro-trans activist Jenny Maguire told the crowd: "We as queer people are forced into a world that's not meant for us."
"We do everything we can to force a world that accepts us and that can love us all unapologetically, and it is them that wants to reverse any progress we've made so far and pull us back into the Dark Ages."
Italy's right-wing Prime Minister Giorgia Meloni has demanded local councils only list biological parents on birth certificates, flinging hundreds of same-sex couples into a legal morass, France 24 News reported Thursday.
Journalist Lara Bullens reported that after same-sex civil unions were legalised in Italy in 2016, and in the absence of any clear legislation on parental rights for same-sex couples, a handful of city councils across the country started listing parents of the same gender on their children's birth certificate.
This led to a situation of creating a host of "ghost parents."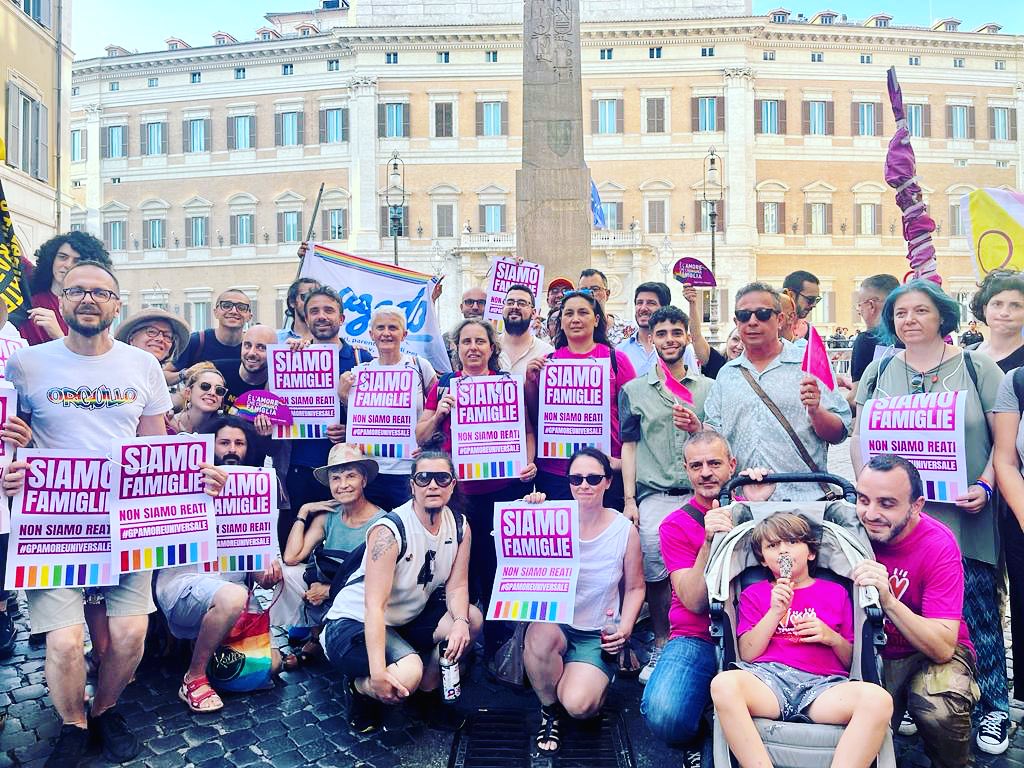 But in recent months, Italy's right-wing government has been cracking down on city councils to stop listing same-sex parents on birth certificates, France 24 reported. Led by the hardline traditionalist Meloni, the ministry of interior issued a directive in January 2023 instructing Italian mayors to stop automatically registering the births of children conceived or born abroad through assisted reproductive methods. 
It cited a case from December 2022, in which Italy's top court ruled that a child of a gay couple who was conceived through surrogacy abroad shouldn't have their birth certificate automatically transcribed in Italy.  
Though the directive primarily concerned surrogacy, which is banned in Italy and now even a crime for those seeking surrogacy abroad, its interpretation by local councils has disproportionally affected LGBTQ families — including those who resort to other reproductive methods.
Italy's Family Minister Eugenia Roccella told Italian newspaper Corriere della Serra: "In Italy, one becomes a parent in only two ways — either by biological relationship or by adoption," and urged same-sex parents to follow the adoption procedure.  
Currently the support for LGBTQ families on this issue is being provided by the LGBTQ rights organization, Famiglie Arcobaleno working alongside Rete Lenford, which is committed to advocacy for LGBTQ rights as an association of lawyers, lawyers, practitioners, scholars, students and people with experience in the issues surrounding LGBTQ rights.
Both Rete Lenford and Famiglie Arcobaleno, are representing hundreds of cases of the affected LGBTQ families in court.
(The following article is from Human Rights Watch) 
Last week the European Court of Human Rights handed down a ruling in the case of Maxim Lapunov, the only victim of Chechnya's vile 2017 anti-gay purge who dared seek justice for the torture he suffered at the hands of local law enforcement.
The court found Lapunov was "detained and subjected to ill-treatment by State agents," which "amounted to torture" and was perpetrated "solely on account of his sexual orientation."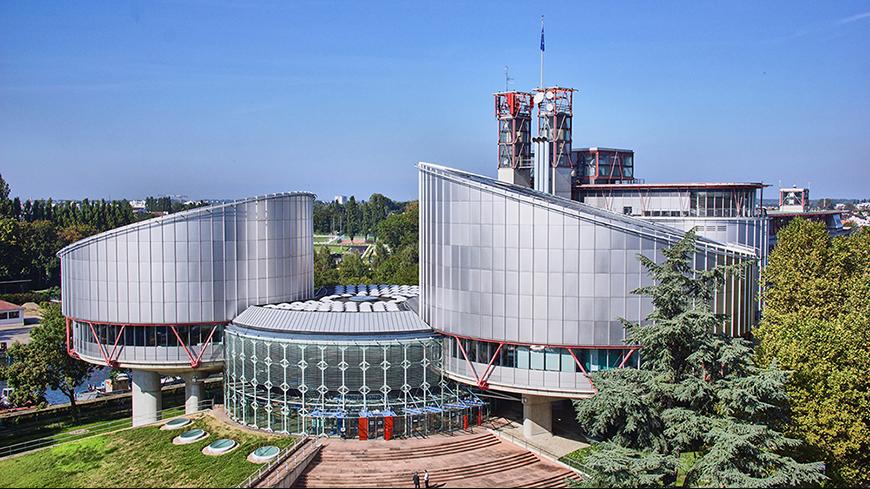 Lapunov took his case to the European Court in May 2019 because the Russian authorities had failed to investigate his assault. Despite great personal risk, Lapunov had been eager to cooperate with Russia's investigative authorities through the assistance of his persistent lawyers from the Committee Against Torture, a leading Russian human rights group.
Tanya Lokshina, the associate director, Europe and Central Asia Division for Human Rights Watch noted:
"I first met Lapunov nearly six years ago, when I moderated a news conference in Moscow at which he publicly told his story for the first time. Lapunov, then 30, described to a roomful of journalists how he had been rounded up and tortured along with dozens of others. His hands shook as he detailed the horrific experience. He stopped several times to regain composure but kept going."
A Russian from Siberia who had traveled to Chechnya for work, Lapunov did not have to face what every Chechen man caught in the purge feared: Being targeted by his own relatives or exposing his entire family to overwhelming stigma because of his homosexuality. His captors threatened to kill him if he spoke out, but he refused to be silent. "We all have rights …," he said at the news conference. "If we just let it be [in Chechnya], … we'll never know whose son or daughter will be taken next."
At the time, Russian authorities claimed they could not investigate the purge because no victims stepped up to testify. When Lapunov provided his staggering testimony, they still failed to investigate. In early 2019, Chechen police rounded up and tortured more men because of their presumed sexual orientation. Realizing they would never get the Russian authorities to do their job and investigate, Lapunov and his legal team filed their complaint with the European Court of Human Rights. Today, they won.
After Russia's full-scale invasion of Ukraine, Russia lost its Council of Europe membership and there is no hope that the Russian authorities will implement this ruling anytime soon. Yet it sets the record straight. This, I hope, will serve to support all survivors of the purge.
Additional reporting from PinkNewsUK, BBC, Agence France-Presse, GCN Ireland, the Irish Times and Human Rights Watch.