The campaign to leave Europe always had a kind of Dambusters machismo frustration about it. Sure, Steve Baker MP may have gone a bit soft since he self-identified as the "Brexit hard man" back in 2019; but surely nobody who suffered through those heady days could have doubted that he, together with fellow flag-fanatic Mark Francois, Geoffrey "codpiece" Cox, and Boris Johnson, were ready to indeed fight or fuck their way out of the European Union.
The impotence, ugliness and rampant pointlessness of the entire Brexit psychodrama – which may not be over in our lifetimes – was already undeniable. But here we are cogitating over the latest damning chapters added to the record by Laura Kuenssberg's devastating BBC documentary State of Chaos, which featured revealing interviews with the senior civil servants at the heart of the storm.
It included the startling admission, direct to camera, from Lord Simon McDonald – the top civil servant at the Foreign Office between 2015 and 2020 – that he had told colleagues and ministers that he had voted remain. Kuenssberg's interview with him also includes his description of civil servants' tearful reaction to the Brexit referendum result.
And thus began, entirely predictably – and as part of the long-running campaign against the civil service that I've written about here – the succession of sneer-and-smear stories from the rightwing press, depicting this as yet further evidence of rampantly anti-democratic remainer/rejoiner bias in the UK's civil service.
The Daily Mail described McDonald's admission as an "extraordinary breach of civil service impartiality rules". GB News rolled out Michael Fabricant and Peter Bone, the usual suspects, to claim that the admission proved that the civil service "blob" tried to block Brexit, and that it was to blame for the UK taking so long to leave. The Spectator took a particularly dim view of civil service tears: "Is the Foreign Office filled with toddlers? What does this tell us about how out of touch civil servants are?"
The Telegraph's Michael Deacon seemed to speak up for all of these trenchant hard nuts (and they are almost always men) when he responded to the emotional reaction of civil servants by honking: "If civil servants were in tears over Brexit, they should have been out of a job."
While that sinks in, consider this: why do human beings cry at all? The science of weeping suggests three main functions: lubricating our eyeballs so that we can see out of them properly, the flushing away of debris that otherwise would cause damage, and as a social response to emotion and trauma.
In today's civil service, is crying an appropriate response to the political, social, cultural and economic debris of Brexit? Absolutely. Having seen more than my fair share of tears when I was conscripted into Operation Yellowhammer, the codename given to cross-government civil contingency planning for Brexit, one of my first contributions to this column was to try to describe the mental health impact of Brexit on tens of thousands of the UK's civil servants. If you fired every civil servant who has cried at work since 2016, there wouldn't be many of us left.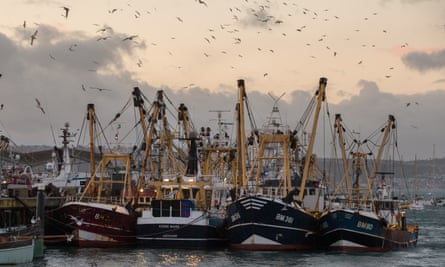 Meanwhile, rightwing media editors continue to deliberately misjudge the public's mood on Brexit.
The fact is that – years after Brexit was supposed to have been "done" – civil service tears are a far more accurate reflection of the public's attitude towards leaving the EU. In fact, the tears of ordinary people have flowed abundantly since our young people first grasped the scale of the rights and opportunities they'd just lost.
These have been followed by a tsunami of suffering, including the tears of those who've had their hard-won holidays repeatedly disrupted by Brexit rules, of weeping conservationists reacting to the bonfire of environmental regulations, and fleets of lachrymose Brexit-voting fishermen who've discovered they've been sold down the river. It should surprise no one that civil servants are now being shamed for our reaction back in 2016, as the culture war that the government and its enablers have waged from their cognitive dissonance bunkers rages on. That war is no less fierce today in the race to identify culprits for current policy failures – from asylum seekers, nurses, teachers, "lefty lawyers" and the police, to the ever-present, malignant spectre of diversity training.
The brazen denial of inconvenient truths is surely among the reasons why the public persistently trusts civil servants more than politicians, who as a group remain woefully unrepresentative of the people they govern, still being dominated by a small cohort of wealthy, privately educated men who probably haven't cried since nanny dropped them off at the school gate for the last time.
I believe that the tears civil servants shed that day in June 2016 were not breaches of the civil service code, and weren't expressions of remainer or rejoiner bias. If anything, they were signs of a reality bias – which is far more likely to enrage the current crop of ministers, who remain in denial despite the mounting evidence.
The public know perfectly well that civil servants don't need to be "true believers" to do their jobs, and that politicians who make dangerous, blithe promises about "taking back control" have no shortage of reasons – political, financial and psychological – to avoid acknowledging their mistakes. They'll never cry over the millions of lives they've made poorer.