London: Lachlan Murdoch, the new chairman of News Corp, has met with Ukrainian President Volodymyr Zelensky in Kyiv in a sign his global media empire will continue to throw its weight behind the war-torn nation's struggle against Russia.
The president's office said the eldest son of media mogul Rupert Murdoch, who officially took control of the company last week, travelled to Ukraine at the weekend alongside Fox News journalist Benjamin Hall and The Sun's Jerome Starkey.
Hall, who in early 2022 was severely injured while he reported from Ukraine, also met with service members who assisted in his evacuation. Cameraman Pierre Zakrzewski and Ukrainian fixer Oleksandra Kuvshynova were killed while Hall lost both feet, a leg and an eye.
The younger Murdoch, whose father described him last week as "a believer in the social purpose of journalism", was in March reported to have previously spoken with Zelensky and other Ukrainian government officials via Zoom.
The Ukrainian president said Murdoch's visit sent "very important signal" at a time when some international media attention is shifting away from the war in Ukraine.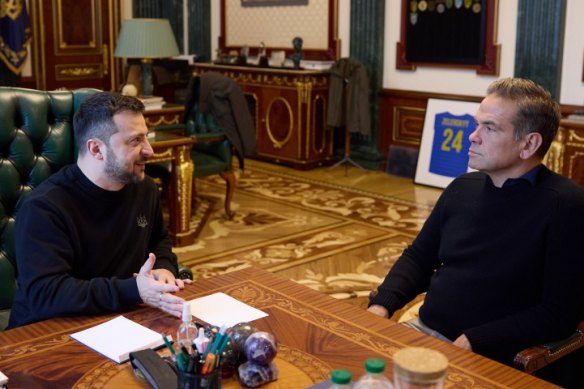 Almost 21 months since Vladimir Putin's invasion, which increasingly appears to be locked in bloody stalemate, Ukrainians fear loss of support in the West as the global gaze shifts to the Israel-Hamas war.
"For some reason, people treat it like a movie and expect that there will be no long pauses in the events, that the picture before their eyes will always change, that there will be some surprises every day," Zelensky said in a statement.
"But for us, for our warriors, this is not a movie. These are our lives. This is daily hard work. And it will not be over as quickly as we would like, but we have no right to give up and we will not."